Arriving at your hotel before check-in? Unsure if you can drop off bags before your room is ready? Most hotels happily store luggage for incoming guests' convenience.
The quick answer is yes, it is generally fine to leave luggage at a hotel before the published check-in time. But policies vary, so double-check with the front desk beforehand.
This in-depth guide covers everything you need to know about early hotel luggage storage. We'll look at typical policies, best practices for checking bags, tips to breeze through a split arrival, and how to handle luggage confidently at any hotel.
Standard Hotel Policies on Luggage Storage
Regarding traveling, one common concern is what to do with your luggage before you can check in to your hotel. Fortunately, most hotels have policies to accommodate this situation and make your stay as convenient as possible.
Most Hotels Allow Early Bag Dropoff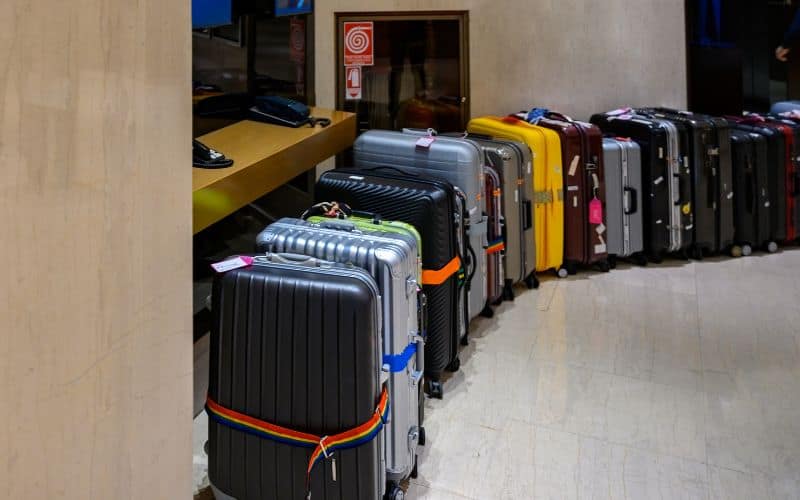 Many hotels understand that guests may arrive before the official check-in time and need a place to store their luggage. As a result, they allow guests to drop off their bags at the front desk or a designated storage area until their room is ready.
This allows you to explore the area or attend meetings without carrying your luggage.
Some hotels even offer a dedicated luggage storage room or lockers where you can securely store your belongings. This service is especially beneficial if you have valuable items or plan to check out of the hotel after the official check-out time but still want to explore the city.
Also Read:
Can Hotels Hold Your Luggage? A Guide To Storing Your Bags Safely

Storage May Be Limited by Capacity
While most hotels are happy to accommodate early bag drop-off, it's important to note that storage space availability may be limited. Depending on the size of the hotel and the number of guests checking in and out, there may be a capacity limit for luggage storage.
Storage space may be limited. During busy seasons or times, hotels may not have room to store bags for every guest arriving early. They have to prioritize based on needs.
Size restrictions may apply. Hotels can refuse very large obstructive items or take up too much space. This includes things like oversized luggage or gear.
The number of bags allowed per guest may be restricted. Especially if space is tight, you may only be allowed 1 or 2 bags each. Anything extra may need to go elsewhere.
Time limits are often enforced. As I mentioned before, most hotels limit storage to 24 hours. This prevents piles of unclaimed luggage over time.
Valuables should not be left. Items like electronics, jewelry, documents, etc., should stay with you rather than risk theft.
So it's always wise to call ahead about luggage storage policies. Be ready to make backup plans if the hotel cannot accommodate you due to capacity issues.
With some flexibility, early luggage drop-off can still work out at most properties. But storage space is not unlimited, so manage expectations.
Fees Sometimes Charged for Extensive Storage
While many hotels offer luggage storage as a complimentary service, some may charge a fee for storing bags for an extended period. This is typically the case if you need to store your luggage for more than a few hours or overnight.
The fees charged for extensive storage vary from hotel to hotel. Some establishments charge a flat rate, while others charge per bag or day. It's best to check with the hotel beforehand to understand their policies and associated fees so that you can plan accordingly.
For storing items longer than 24 hours. Extended storage for multiple nights or after checkout may incur daily fees.
For large items that take up significant space. Oversized luggage, sports equipment, etc., may have associated charges.
For storing items in a separate storage room. Some hotels have dedicated storage areas that require fees to use.
For repeated storage between stays. Guests who store bags multiple times on long or frequent trips may be charged.
At luxury hotels or resorts. Upscale properties are more likely to charge luggage fees as a revenue source.
When capacity is very limited. If storage space is extremely tight, even short-term storage may be fee-based.
So guests should clarify any potential fees when dropping off bags for storage. Alternatives like luggage delivery services or off-site storage facilities may be more cost-effective for extensive storage needs.
But for short term, small bag storage, most hotels will remain free of charge as an amenity. Being aware of potential fees allows travelers to budget accordingly.
Best Practices for Checking Luggage Early
Scope Out Storage Areas in Advance
Research beforehand is always a good idea when leaving your luggage at a hotel before check-in. Many hotels offer storage areas or luggage rooms where guests can safely leave their bags. These areas are usually located near the front desk or in a designated room.
You can call or check their website to ensure your hotel has this service available. Some hotels even provide detailed information about their luggage storage policy on their website, so it's worth looking at before your trip.
You can also consult travel websites and forums for recommendations and reviews of hotels with reliable luggage storage facilities.
Label All Bags Clearly with Room Number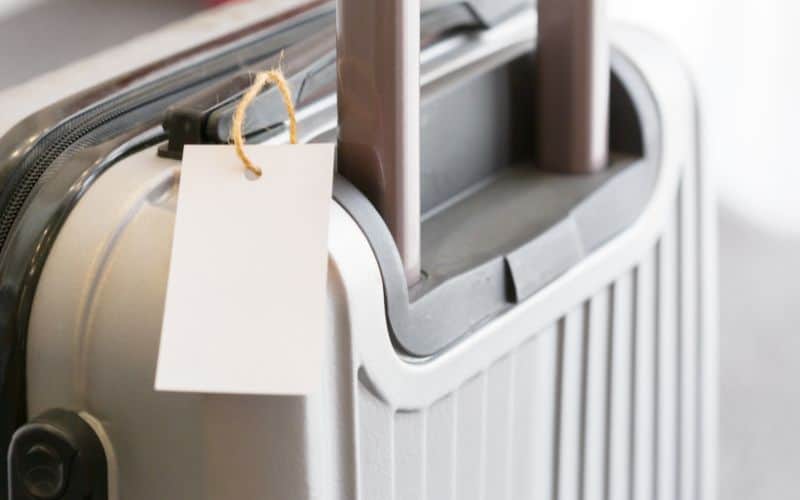 When dropping off your luggage at a hotel, it's important to label each bag clearly with your room number. This helps the hotel staff identify your belongings and ensure they are delivered to the correct room when you check-in.
You can use luggage tags or simply write your room number on paper and secure it in your bag.
Labeling your bags allows you to avoid confusion or mix-ups during storage. Remember to double-check the accuracy of your room number to ensure that your bags are delivered to the right place.
Notify Front Desk When Dropping Off Items
When you arrive at the hotel and want to leave your luggage before checking in, you should notify the front desk. Informing the hotel staff about your intention to store your bags helps them prepare for your arrival and ensures they know your belongings.
The front desk staff will provide you with any necessary instructions, such as where to place your bags or if there are any specific procedures to follow. This communication lets the hotel provide the best possible service and ensures a smooth process when you check in later.
Remember, each hotel may have its own policies and procedures regarding luggage storage, so it's always best to check in advance. Following these best practices, you can make leaving your luggage at a hotel as seamless and convenient as possible before you check-in.
Making the Most of a Split Arrival
Arriving at a hotel before check-in time can be common, especially if you have an early flight or an adventurous spirit. However, many travelers are unsure what to do with their luggage during this waiting period.
The good news is that most hotels are happy to accommodate their guests' needs by providing luggage storage options. Here are a few tips to make the most of a split arrival:
Explore the Area While Waiting for the Room
Instead of sitting around in the hotel lobby, take advantage of the opportunity to explore the surrounding area. Whether grabbing a cup of coffee at a nearby café, exploring local shops, or taking a leisurely stroll in a nearby park, there are plenty of ways to pass the time.
This will make the wait more enjoyable and allow you to get a feel for the neighborhood and discover hidden gems.
Inquire About Early Check-In Fees
If you're eager to get settled into your room as soon as possible, it's worth inquiring about early check-in options.
While some hotels may charge an additional fee for this service, others may be willing to accommodate your request free of charge, depending on availability. It never hurts to ask, and you may be pleasantly surprised by the hotel's willingness to accommodate your needs.
Also Read: How To Get An Early Check-In At A Hotel: Tips And Tricks
Join Loyalty Program for Priority
If you frequently arrive at hotels before check-in time, consider joining the hotel's loyalty program. Many hotels offer perks to their loyal members, including priority check-in and early room availability.
By becoming a member, you can increase your chances of having your room ready upon arrival, allowing you to settle in and enjoy your stay immediately.
Loyalty members sometimes get preferential early check-in, especially elite status members. This allows you to access your room and drop off bags sooner.
Loyalty members may jump the queue for luggage storage over non-members. The hotel fulfills its members' needs first if capacity is limited.
Elite members often get waived fees for luggage storage and early check-in. Fees are complimentary as a loyalty perk.
Loyalty programs sometimes guarantee early check-in or room type if you book direct. This assurance helps avoid wasting time waiting.
Members can accrue free nights and upgrades to use for future stays. More value for your hotel spending.
Many programs offer express or dedicated check-in areas for quicker service on arrival.
So joining hotel loyalty programs costs nothing and provides benefits. When planning trips where you need to store luggage before check-in, membership could give you priority access and waive fees.
It also gives you status for future stays. Just be sure the chain has properties in places you visit frequently to maximize rewards.
So, don't worry about your luggage the next time you find yourself with a split arrival. Instead, take the opportunity to explore the area, inquire about early check-in fees, or join a loyalty program for priority treatment.
Your hotel experience will be even more enjoyable when you maximize your time before officially checking in.
Also Read: Which Hotel Has The Best Rewards? A Comprehensive Guide To Hotel Loyalty Programs
What to Do If Storage is Not Available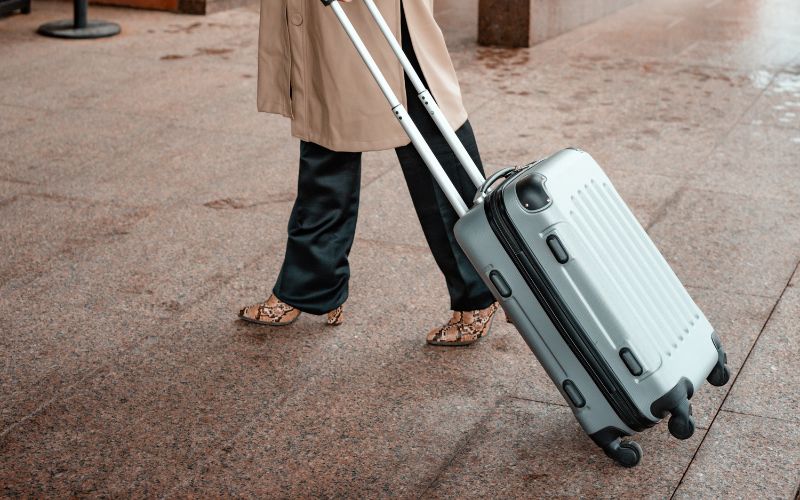 It can be quite frustrating when you arrive at a hotel and find out that luggage storage is unavailable. However, you can take a few steps to ensure your belongings' safety until you can check-in.
Here are some options to consider:
Ask Staff For Alternative Storage Spots
If the hotel does not have storage facilities, don't panic! First, You should ask the hotel staff if they have alternative storage options.
Sometimes, hotels may have designated areas where guests can temporarily store their luggage. The staff might be able to offer you a secure location where you can leave your belongings until your room is ready.
It's always worth asking, as you never know their available solutions.
See If Bell Desk Offers Temporary Holding
Another option to explore is checking with the hotel's bell desk. Bell desks typically offer services such as luggage holding for guests. Even if the hotel doesn't provide storage, the bell desk may have arrangements with nearby facilities to store your luggage for a small fee securely.
They can also provide a claim ticket to ensure your belongings are returned safely. Be sure to inquire about any charges or time limits associated with this service.
Research Nearby Luggage Storage Options
If the hotel staff and bell desk cannot assist you, it's time to research independently. Look for nearby luggage storage options in the area.
Many cities now have luggage storage services that allow you to securely store your bags for a few hours or even days. These services often have convenient locations near popular tourist spots, train stations, or airports.
Websites like radicalstorage.com and Vertoe can help you find storage options in your destination city.
Remember, it's always a good idea to plan ahead and check if your hotel offers luggage storage before you arrive. However, if you find yourself in a situation where storage is unavailable, don't worry!
By asking the hotel staff, checking with the bell desk, and researching nearby storage options, you can ensure the safety of your belongings while you explore your destination.
Retrieving Your Stored Bags Upon Check-In
One of the conveniences hotels offer is the ability to store your luggage before check-in. This can be especially helpful if you arrive at your destination early or have plans before your room is ready.
Once you are ready to retrieve your stored bags, there are a few steps you can take to ensure a smooth process.
Ask Front Desk to Bring Up Luggage
When you are ready to retrieve your stored bags, simply approach the front desk and inform them that you would like your luggage brought up to your room. Most hotels are happy to assist you with this request and promptly send someone to retrieve your bags.
Remember to be polite and patient, as the hotel staff may deal with multiple requests simultaneously.
Have Claim Ticket Ready if Provided
Some hotels provide claim tickets when you store your luggage. These tickets typically have a unique identifier matching your bag's tag. When requesting your luggage, have your claim ticket ready to present to the front desk.
This will help ensure you receive the correct bags and prevent any mix-ups. If you were not given a claim ticket, simply provide the front desk with your name and room number for verification.
Confirm All Belongings are Accounted For
Once your luggage has been brought up to your room, take a moment to confirm that all your belongings are accounted for. Check each bag to ensure that nothing is missing or damaged.
If you do notice any issues, notify the front desk immediately so they can assist you. It's always better to address concerns immediately rather than discover them later.
Remember, the hotel staff will assist you and ensure your stay is as comfortable as possible. Following these steps, you can retrieve your stored bags smoothly and enjoy your stay hassle-free.
Conclusion
Understanding hotel luggage storage policies lets you drop off bags hassle-free before check-in.
Proper planning and communication allow you to leave your luggage worry-free as you enjoy your pre-check-in hours.
Knowing hotels accommodate early arrivals grants peace of mind to travelers juggling split itineraries.