With the hotel industry saturated by massive parent brands, figuring out which chains own which hotels can get confusing. A common question travelers have is – Is Sheraton part of the Marriott portfolio?
The quick answer is yes, Sheraton is currently a fully owned subsidiary within the Marriott International family of hotels.
This article will dive into the complex history of these two iconic hospitality companies. We'll examine how Sheraton and Marriott grew independently but were brought together through high-profile mergers over the decades.
Their intertwined past provides insights into how major brands consolidate power in the hotel world.
History of Sheraton and Marriott
Sheraton Was Founded and Expanded in the 1930s
Sheraton Hotels and Resorts, a well-known name in the hospitality industry, was founded in 1937. It was established by Ernest Henderson and Robert Moore, who initially focused on operating luxury hotels and resorts in the United States.
The first Sheraton hotel, The Stonehaven Hotel, opened in Springfield, Massachusetts. Sheraton soon gained popularity for its commitment to impeccable service and luxurious accommodations.
Throughout the 1930s, Sheraton Hotels expanded rapidly, opening new locations in major cities nationwide. By the end of the decade, there were Sheraton hotels in Boston, New York, and Chicago, solidifying the brand's presence in key metropolitan areas.
This growth continued in subsequent decades, and by the 1960s, Sheraton had become a global brand with properties in Europe, Asia, and the Caribbean.
Today, Sheraton Hotels and Resorts is a subsidiary of Marriott International, following its acquisition by Marriott in 2016. This merger brought together two giants in the hospitality industry, combining Sheraton's rich history and global footprint with Marriott's extensive portfolio of brands.
Marriott Was Founded in 1927 and Grew in the Following Decades
Marriott International, another powerhouse in the hotel industry, has a history that dates back to 1927. It was founded by J. Willard Marriott and his wife, Alice Marriott, with the opening of a nine-stool root beer stand in Washington D.C.
Over the years, the Marriott family's business expanded, eventually leading to the opening of their first hotel, the Twin Bridges Marriott Motor Hotel, in 1957.
Marriott's growth continued throughout the following decades, driven by strategic acquisitions and innovative business practices. The company pioneered new concepts, such as the first hotel reservation system and in-room televisions.
These innovations helped Marriott establish itself as a leader in the hospitality industry.
By the 1990s, Marriott had become a global brand with properties in over 70 countries. The company continued to expand its portfolio, acquiring other hotel chains and diversifying its offerings to cater to different market segments.
Today, Marriott International operates over 7,000 hotels and resorts worldwide under various brands, including Sheraton.
For more information on the history of Sheraton and Marriott, you can visit their official websites:
Key Mergers Between the Brands
Over the years, the relationship between Sheraton and Marriott has undergone several significant changes through a series of mergers and acquisitions. Let's take a closer look at these key milestones:
Starwood Acquired Sheraton in 1998
In 1998, Starwood Hotels & Resorts Worldwide, a hospitality company, acquired ITT Sheraton Corporation, the Sheraton brand's parent company.
This acquisition allowed Starwood to expand its portfolio of hotel brands, including Sheraton, and strengthen its presence in the global hotel industry.
Marriott Acquired Sheraton in 2016 Mega-Merger
In 2016, Marriott International completed its acquisition of Starwood Hotels & Resorts, including the Sheraton brand. This mega-merger solidified Marriott's position as the industry leader, with an even more extensive portfolio of brands and properties.
The reacquisition of Sheraton by Marriott demonstrated the company's commitment to growing and diversifying its offerings and its confidence in the ongoing success of the Sheraton brand.
These mergers and acquisitions have reshaped the hospitality industry and allowed Marriott and Sheraton to leverage each other's strengths and resources. Combining their expertise and global reach, the two brands continue to provide exceptional service and unforgettable experiences to travelers worldwide.
Current Affiliation Status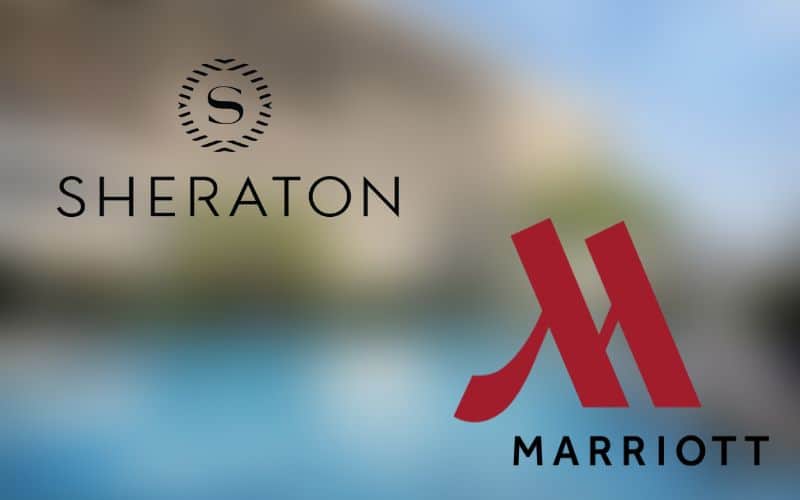 Sheraton Now Fully Owned by Marriott
Yes, Sheraton is currently owned by Marriott International. In 2016, Marriott acquired Starwood Hotels & Resorts, which included the Sheraton brand. This acquisition created the largest hotel chain in the world, with over 7,000 properties across 130 countries.
As a result, Sheraton became part of the Marriott portfolio, alongside other well-known hotel brands such as Marriott, Ritz-Carlton, and St. Regis.
The merger between Marriott and Starwood was a significant milestone in the hospitality industry. It allowed Marriott to expand its presence and gain access to a broader customer base. It also provided Sheraton with the resources and support of a global hospitality giant, enabling the brand to enhance its offerings and deliver exceptional guest experiences.
Since the acquisition, Marriott has been working to integrate Sheraton into its portfolio while maintaining its distinct brand identity.
Maintains Distinct Brand Identity
Despite being owned by Marriott, Sheraton maintains its distinct brand identity. Marriott understands the value and heritage of the Sheraton brand and recognizes the importance of preserving its unique characteristics.
Marriott has invested in renovating and repositioning Sheraton properties to enhance guest experiences. The brand has been revitalized, focusing on modernizing its design, upgrading amenities, and improving service standards.
These efforts aim to ensure that Sheraton remains a top choice for travelers seeking comfort, convenience, and quality.
While Sheraton benefits from Marriott's resources and global reach, it retains its identity and brand essence. Sheraton hotels still have their signature amenities, such as the Sheraton Sweet Sleeper Bed and the Sheraton Club Lounge, which offer exclusive services and perks to guests.
Marriott's ownership of Sheraton has allowed the brand to leverage its worldwide distribution system, loyalty program, and expertise in the hospitality industry. This partnership has enabled Sheraton to continue delivering exceptional guest experiences while benefiting from the advantages of being part of a larger hospitality network.
For more information about Sheraton and Marriott, visit their websites: https://www.marriott.com/ and https://sheraton.marriott.com/.
Benefits of Shared Parent Company
When Sheraton and Marriott came together under the same parent company, it brought many benefits. Let's explore some of the advantages that this shared ownership brings:
Leverage Size for Scale
One of the key benefits of Sheraton being owned by Marriott is the ability to leverage their combined size for scale. Both brands operating under the same parent company can pool their resources and negotiate better deals with suppliers.
This allows them to benefit from economies of scale, resulting in cost savings that customers can pass on.
Additionally, the shared ownership enables them to expand their global footprint more rapidly, as they can tap into each other's networks and expertise.
Rewards Program Integration
Another advantage of Sheraton and Marriott's shared ownership is the integration of their rewards programs. Both brands are part of the Marriott Bonvoy loyalty program, so members can enjoy a seamless experience when staying at Sheraton or Marriott properties.
Loyal customers can earn and redeem points across both brands, providing greater flexibility and value. Additionally, integrating rewards programs allows for a more personalized experience, as customer preferences and history can be shared between the two brands.
Marketing Synergies
The shared ownership of Sheraton and Marriott also brings about marketing synergies. They can create more impactful campaigns that reach a larger audience by aligning their marketing efforts. This allows them to maximize their marketing budget and generate greater brand awareness.
Furthermore, the shared ownership enables them to cross-promote each other's properties and offerings, driving more business to both brands. They can tap into new markets and attract more customers through strategic partnerships and collaborations.
Also Read:
Are The W Hotels Owned By Marriott?
Is Hyatt A Marriott Hotel? Exploring The Differences
Are Marriott Hotels Privately Owned?
Conclusion
While Sheraton and Marriott blazed their own trails in the early decades, their paths converged through monumental industry mergers. Today, Sheraton forms a core brand within Marriott's global empire – bringing its storied service history to one of the largest hotel entities in the world.
The Sheraton experience remains intact for loyal guests as the brand maintains its distinct identity under its parent company.